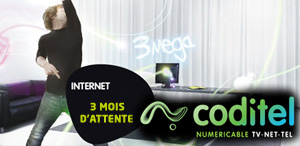 I've been going back and forth between the UK and Belgium for the last 10 months, and due to a change in circumstances I'm finally getting all the bureaucracy in order so as to stay in Belgium on a more permanent basis.
First of all the flat. Sign the papers with the landlord to transfer the flat contract to me. Go to the bank. Insurance is obligatory as part of my contract, but I can't get insurance without being registered in the commune, and to register with the commune I need a rental contract. Three days of cycling between the landlord, the bank and the Commune and it's finally fixed, but it's really silly…
But it's not half as bad as Coditel. Turn up at the Coditel office in St Josse with all the papers, with the desire to sign a new contract with the same conditions (but with my name on it) once the current contract expires. "On ne peut pas faire cela" explains the person there, talking to me as if I'm a 5 year old child after I've been waiting 30 minutes to see him. No you f**kwit with your ludicrous peroxide blonde haircut and over-the-top shirt: French might not be my mother tongue, but I do speak French, and actually – as the customer – I can rightly demand half decent service.
You can only, apparently, terminate a contract by sending a letter by recorded delivery, and NOT in person. But you can only sign new contracts at their office, in person. So more waiting sometime next month. And then they cannot transfer the ownership of the set-top box and the modem to me. These have to be returned to the office and then given back to me.
Only in Belgium, only in Belgium…