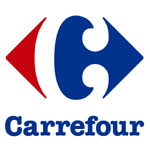 As the Olympic torch passed through Paris a protester tried to steal it from parolympic athlete Jin Jing. She has subsequently stated how she thinks the torch is sacred and has become a bit of a celebrity in China as a result.
So what happened then? There has been a backlash in China against French supermarket chain Carrefour, the world's second largest retail group that owns many stores in Chin. It's not the first time Carrefour's presence in China has caused controversy – previously 3 people died in a stampede for cooking oil. Now there are protests outside Carrefour stores, as shown in these two grainy Youtube films, and as reported by CNN, and efforts to organise a boycott of the stores.
There's some sense of irony here as Carrefour was one of the first retailers to remove Danish products from its shelves in the Middle East at the time of the Jyllands-Posten Muhhammad cartoons controversy, even displaying signs for shoppers to tell them how they had removed Danish produce (see this news story from UAE in English).
So what will Carrefour's response be? Distance themselves from the right of protesters in France to make their views known? It's a hard one to play. I also don't expect any notes of support from Arla Foods to the chief executive of Carrefour.
More generally, while millions of people in Europe will have been able to relate to the pro-Tibet protests, what are any of them actually going to do practically? I'm sure that plenty of the people involved in the protests will be going out shopping this Saturday in high streets across Europe full to bursting with Chinese-manufactured electronic goods and clothes. Does their anger about Tibet translate into changed consumer choices in the way the Chinese are willing to boycott a French supermarket? I think not.