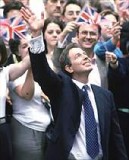 I am very tired of the labels used in the Labour Party to categorise people. You are either supposed to be a Blairite or Brownite, a reformer or a loony leftie etc. Further, these labels tend to be assigned by association rather than through any logic or sensible rationale. A comment in this direction in reply to my post about the Compass conference here stung me into action – if I'm so opposed to the categorisation, let me at least try to lay out what I like and dislike about what the Labour government has done. Here's my list so far:
IN FAVOUR
– Tax credits, efforts to eliminate child poverty
– Community policing, community support officers
– Investment in junior schools
– Massive funding increase for the NHS
– Devolution
– Public smoking ban
– Foxhunting ban
– Independence of the Bank of England
– Excellent management of the economy
– Investment in railways and public transport
– Efforts to get government services online
– Military intervention in Kosovo, Afghanistan
ON THE FENCE
– ID cards (not opposed in principle, opposed in practice to this legislation)
– Reforms of the NHS
– Policy on Europe: better than the Tories, but not pro-European enough
– Pensions policy: where will it go?
– Local government reforms: very piecemeal, some good ideas
– Energy policy: some progress on renewables, but now nuclear
AGAINST
– State funded religious schools, city academies
– University tutition fees
– Messed up House of Lords reform
– Confused and insufficient housing policy
– Dreadful sentencing policy – too many in prison
– No changes made to income tax
– War in Iraq
Now, I have no clue where that leaves me in terms of any of the categorisations. For what it's worth, I want Blair to go, but I very much fear Brown as PM. I believe in an equal and happy society, and in more redistributive taxation, but that does not mean the state has to do everything. I believe in proportional representation and full engagement in the European Union. And I also believe that I should be able to go along to something like the Compass conference without being bracketed as a loony leftie.
Feel free to ask for additions / amendments to the list – this analysis of my views on the government is very much in its early stages.