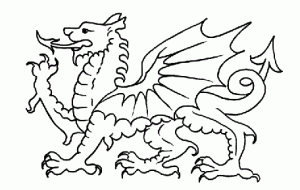 So Welsh has been used for the first time in a meeting of the Council of the EU today. Woo hoo. Let's all jump up and down and beat the nationalist drum!
Ordovicius is happy and Alun Ffred Jones who spoke Welsh at the Culture Council stated "Welsh is one of Europe's oldest languages and I am delighted that my ministerial colleagues from across the union will hear it as a living and dynamic language of business." Well yes, Alun, you've hit the nail on the head there: they will hear Welsh, and then they will have to wait 20 seconds for an inadequate relay translation through the headphones. Welsh to Finnish or Slovak anyone?
Essentially negotiations in Brussels between Parliament, Council and Commission are about communication, getting your message across in the most effective manner possible. In practice this means English most of the time, with some French and German. Plenty of canny MEPs in Parliament have even taken to speaking English even when interpretation is available because people understand it first time that way. Plus while Welsh may have been uttered in Council you can bet all the real work – the drafting of the conclusions, any detailed amendment of legislation, was all carried out in English.
But let's take a step back… Is this about communication, or is it political? If it's the former then you can make no case for Welsh, as the Minister could undoubtedly have spoken English (just as a Maltese minister could, and Maltese – stupidly – is an official EU language).
If it's political, and it's about the place for Wales in the EU, then there are other things that would be much better to do. Wales has 3 million citizens, more or less the same as the Republic of Ireland. But Wales has 4 MEPs, and Ireland gets 13. So it would make more sense to lobby for more MEPs and hence more influence, rather than make a stand on Welsh.
Oh, and while we're at it, Welsh is a rather small language – I would estimate that maximum 1 million people use Welsh on a daily basis. That number is dwarfed by the numbers in Europe that speak Arabic or Russian as their first languages. But then those groups are across borders, and have not organised themselves into parties that lobby to lose influence in Brussels by speaking an incomprehensible language in Council.