(NOTE: this blog entry was written in 2014, but it has now been updated in 2017 in light of recent good experience with this watch and the associated software!)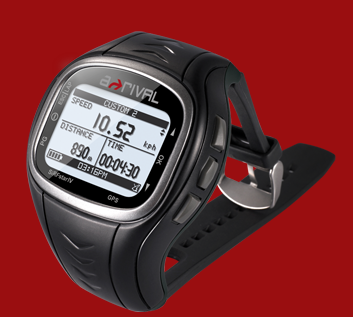 I seldom blog about sport, but that does not mean it is not important to me. You'll find me out running two or three times a week, and going for long skating trips in the summer time. I used to measure all these workouts with a Garmin GPS watch (as a skater I need a GPS solution, rather than something based on paces), but recently lost the old watch.
So what should I use instead?
The a-rival SpoQ, for €92 on Amazon, seemed a possible alternative – cheaper than the low end Garmin watches, and with a larger display showing more parameters than the Garmin equivalents. The only problem: out of the box it is only supported on Windows computers. I managed to find this post in German on a running forum to determine whether a Mac solution was possible, bought the watch, and hence here – in English – explain my experience. Also note that this watch is the same as the GlobalSat GH-625XT, so anything you find for that will also work for the a-rival Spoq version.
1) Download the 'USB Serial Driver' software for Mac from here. A ZIP file will download, uncompress this, and open the .pkg file inside it to install the driver. You will probably get an 'unidentified developer' error when you do this, so you might have to right-click the installer and choose 'Open' from the menu to get around the error. You need to restart your Mac after installing this.
2) Next download the free tool LoadMyTracks that allows your Mac to connect to the SpoQ. You can find the download link for this at the bottom of this page. A .dmg file will download, open this, and a disk mount icon will appear on your desktop. Drag LoadMyTracks from in here into 'Applications' on your Mac. I added it to my dock too. WARNING: DO NOT use the version of LoadMyTracks that is available in the Apple App Store – that version did not work for me, as no GH-625 was listed there. Only use the version from the LoadMyTracks website.
3) Start LoadMyTracks and choose 'GlobalSat GH-625' from the menu at the top of the window, and choose 'usbserial' from the menu in the centre of the screen. It should look like this:
4) To get the data transfer to work when you click 'Acquire' you need to have the watch on, and have chosen 'Connect to PC' from the menu you see when you press the 'PG' button on the left of the watch. This will download a GPX or KML file to your Mac, and you can then import this data into whatever program you use to analyse tracks – TrailRunner remains my favourite, and indeed in TrailRunner LoadMyTracks can be added as a Helper Application.
This all works on a mid-2009 MacBook Pro running OS X 10.9.2. UPDATE: this all now works on a mid-2017 MacBook Pro Retina Kaby Lake running MacOS Sierra 10.12.6, and the watch is connected via a USB-C hub.
Please note: this is not a review of the functions of the watch itself! Many of those – in German – can be found here. My short experience with the watch, albeit using just time, distance and pace functions, is that it works very well and the battery life is good (and is still good after 3 years!). It even finds satellites very swiftly. My only slight critique is that the watch itself is very large, although not heavy or uncomfortable.