A week from now leaders of the European Union's 27+1 Member States will have sore heads after a long night. Friday 19th October will be the second day of the European Council at which the fate of the Brexit negotiations is to be decided. However hard it is, decide something they must.
Further delay – on the EU side at least – serves no purpose. No extra summit in mid-November, no prevarication until December. Theresa May needs a Withdrawal Agreement now – for the sake of both sides.
Why the imperative?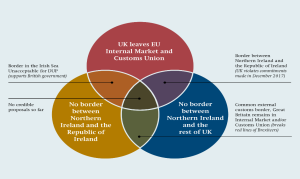 Because Parliament in the UK is paralysed, with no end of the paralysis in sight. There is nothing that a few extra weeks can do to alleviate this. No fudge that can magically fill the central overlap of this diagram from Nicolai von Ondarza's detailed analysis of the UK's parliamentary predicament. Plus with just 168 days until the end of the Article 50 period there is also no time to return to the drawing board to radically reformulate the withdrawal agreement.
The 10 MPs from the DUP reject any form of Northern Ireland-specific backstop solution, or anything that treats Northern Ireland differently to the rest of the UK. The 40-odd MP strong Brexit hard core of the European Research Group reject anything that would keep the UK in a Customs Union or Single Market post-2020 (they'd prefer No Deal). Meanwhile 20-odd Tory MPs around Anna Soubry and Kenneth Clarke reject anything that takes the UK out of a Customs Union. Try making a majority on the government benches in those circumstances!
There are rumblings that May is seeking to appeal to Labour MPs with her plan, but for that to work she would need to attract a few dozen MPs over to her side, and as Mike Gapes rightly outlines here, she is not going to find the numbers for that.
That the Commons is paralysed this way poses a unique conundrum in UK politics. It is not that the Commons can always decide, but normally it can take a decisive vote to do nothing – look at the never-ending stream of reports and commissions into Heathrow expansion as an example of this, rather than actually committing to building.
But Brexit, operating under the constraints imposed by Article 50 and the 29 March 2019 deadline, is different. A decision is needed from the Commons, because failing that means the UK ends up with a No Deal Brexit – and that is something that no-one other that Brexit revolutionaries want.
The sooner that both sides see this and understand this the better. There is no majority in the House of Commons for any one form of Brexit. And out of that stalemate a number of different ways forward can emerge – an extension to the Article 50 period, the UK advancing towards No Deal Brexit and panic ensuing, or opponents of May's deal adding criteria (a People's Vote?) as the price for backing the Withdrawal Agreement.
All of these routes forward are fraught with difficulty and come with major downsides. But an orderly route towards a Withdrawal Agreement that the House of Commons will approve is not possible now.
So, Heads of State and Government at next week's European Council: please agree a Withdrawal Agreement with May that she can then take back to London and try to sell. It will soon become clear that she cannot, but there are then still 150-odd days until the end of the Article 50 period, allowing something other than a catastrophic No Deal Brexit to be hammered out.
UK politicians need to be confronted with the seriousness of the predicament – the European Council next week can ensure they are, and sooner rather than later.
[UPDATE, 12.10.2018 1820]
I was confronted on Twitter by someone who ought to know better that this post means the EU must concede on Ireland to please May. To make it clear – this could not be further from the truth. A backstop to keep the Irish border open and without checks will without doubt be part of the proposed deal. May could get a few embellishments to keep the DUP happy, but not much more – as The Guardian is reporting this afternoon. May, I reckon, will go for that though.