EU citizens can vote in the municipal elections in Berlin on 18th September. But what issues are at stake? Why do these elections matter?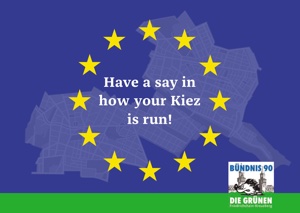 Information for EU citizens in Friedrichshain-Kreuzberg, including a summary of our election programme in English!
These are the questions we will answer here on Thursday 15th September between 1930 and 2030. Together with my Grüne Friedrichshain-Kreuzberg colleague Julian Schwarze (number 2 on the Grüne list for the Greens for the municipal parliament) we will answer any questions EU citizens have about the elections. We are both candidates in Friedrichshain-Kreuzberg and will hence prioritise answering questions from people living in that Bezirk. If time allows we will answer other questions too.
It works like this. Questions can be posed in writing in English, German and French, and we will answer in those languages live on camera. If you want more clarification or detail, pose us a further question in writing.
You can pose questions before or during the event in the following ways:
– on Twitter using the hashtag #AskTheGreens
– by leaving a comment on the Facebook event. Event will also be streamed using Facebook Live there!
– by sending us an e-mail using the form below
Mail Form

Error: Contact form not found.